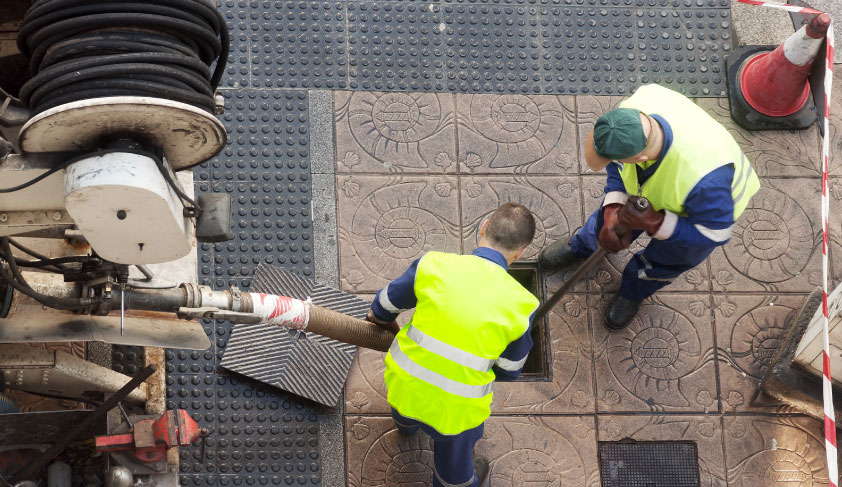 Septic tank emptying and cesspit emptying in central London, we are an experienced liquid waste disposal company, providing all private drainage services.
Liquid waste disposal company London
A regularly maintained septic tank or cesspit is a very effective way of dealing with foul waste which, if maintained and serviced on a regular basis, will service a property for many years. If ignored however, you will at some point begin to experience problems. Specialising in septic tank emptying London and cesspit emptying, we are an experienced sewage treatment and liquid waste disposal company, providing all drainage services, guaranteed to keep your private and mains drainage facilities running smoothly.
Cesspit's London – Private drainage
A cesspit should not be confused with a septic tank, these two methods of dealing with sewage are infact very different. A cesspit is a sealed underground tank that simply captures and holds sewage form the property. It does not process or digest the sewage, simply holding the waste until it has to be emptied. It therefore fills up rapidly and waste has to be removed on a regular basis. For older properties without mains drainage and where the grounds are unsuitable for a soak away septic tank, a cesspit London is often the solution.
Cesspit emptying London
Since cesspits in central London are usually found on period and older properties, you will find that they need regular upkeep and of course cesspit emptying. A cesspit requires emptying on a very frequent basis, possibly around every 45 days or so depending on use. If you are living in the London area the Private Drainage Contractor can help, we are skilled in all aspects of liquid waste removal and cesspit emptying London maintenance. As well as plenty of useful advice we offer very efficient and cost effective cesspit emptying services.
Septic tank maintenance London
Unlike a cesspool, a septic tank processes sewage by settling out and partially digesting the settled sewage using natural biological processes. It also discharges a liquid effluent into a soakaway system specially created for that purpose. As a result, it needs emptying much less often – typically once a year. Nonetheless, at some point a septic tank London and its soakaway will run into problems, maybe with land drainage issues and often after long periods of wet weather. This will be the fault of the drain field rather than the septic tank itself. London Sewage Pumps in central London can help with septic tank emptying and all septic tank maintenance and repairs.
Signs of a failed soak away and poor land drainage – Septic tanks central London:
Ground surface odours
Bad odours coming from the septic tank or drains
Effluent pooling on the surface on your land due to poor land drainage
Slow flushing of toilets
Sounds of gurgling coming from the drains
Dips and ground movement near the septic tank London or soakaway drainfield
Overflowing toilets
Sewage treatment plant systems London, for private drainage services
A sewage treatment plant goes a step further than a septic tank by settling out and then treating the sewage via an actively assisted process – typically an electrically driven system involving rotating media discs designed to promote aerobic bacterial digestion. This produces an effluent that can be 95% clean and which can be discharged – with appropriate consents – into a nearby watercourse or specially constructed land drain system. Private Drainage Contractor is fully capable of installing all sewage treatment systems, sewage pump control panels and sewage pump service London.
Sewage pump's central London
A faulty sewage pump is a problem that will have a knock on effect, leading to costly problems with the performance of your entire drainage system. For all sewage pump installation, sewage pump repairs and flood prevention equipment, call Private Drainage Contractor London. We supply, repair, install and maintain sewage pump's, storm water pump repair and surface water pump's services. Our qualified drainage contractors are on hand to install and maintain sewage pump control panels as well as assist you in the hire or repair of any damaged water pumping equipment you may have.
For all liquid waste removal and private drainage service's London
If you require the services of a liquid waste disposal company in central London who can deal with all your private drainage installation requirements and offer you good sound advice, then call Private Drainage Contractor. We are skilled experts in all aspects of private drainage services, taking great pride in all work carried out. Septic tank installation and repair, storm water pumps, surface water pumps and sewage pump installation. Sewage treatment systems, flood damage repair, flood control service, septic tank emptying London and cesspit emptying London, we are an experienced liquid waste removal company, providing all land drainage services.